Pure Golden Jojoba Wax - Peruvian Protector (30ml) - Vegan Friendly
$19.97
An all-rounder for face and hair, this golden liquid plant wax mimics the skin's natural oil production.
Completely unprocessed, this vivid liquid is packed with vitamin E and antioxidants to protect & repair skin and strengthen hair. Sourced from the Jojoba bush (Simmondsia Chinensis), grown in Peru.
This golden nectar is oil like in appearance – but thanks to the structure of a long chain of liquid wax esters, it is structurally different from triglycerides (unlike most nut/seed oils) – making it a wax, and not an oil.
INGREDIENTS
Pure Golden Jojoba Wax - Peruvian Protector (30ml) - Vegan Friendly
Simmondsia Chinensis Seed Oil
Contains Nuts.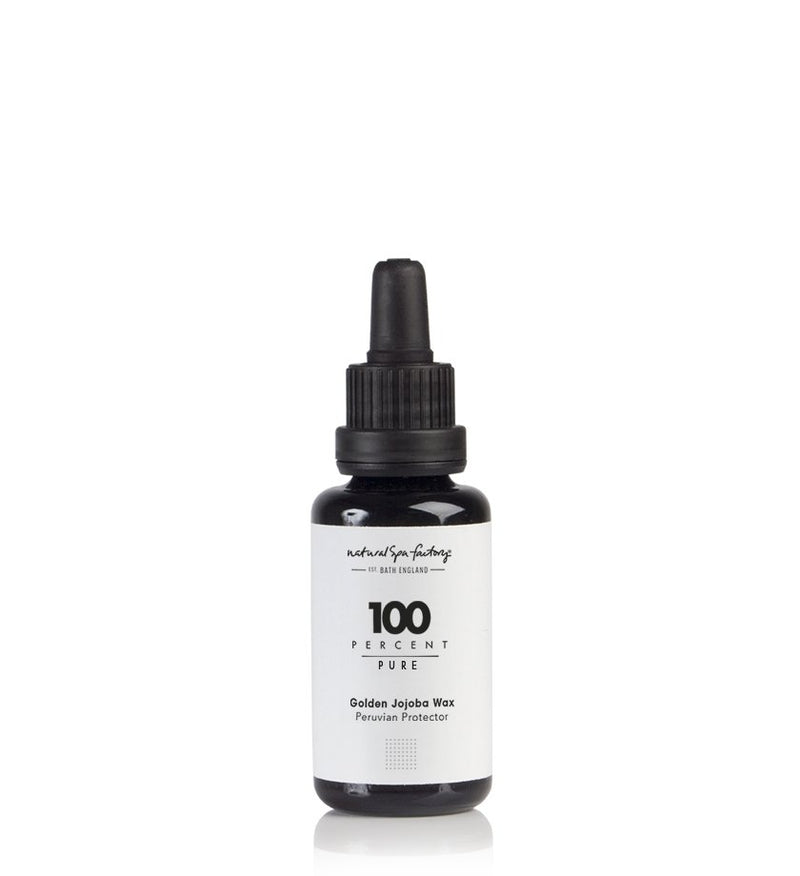 This jojoba wax is packed with vitamin E and antioxidants to protect both skin and strengthen your hair, making it a perfect addition to your beauty regime.
Anti-bacterial – most bacteria cannot reproduce & die when they come into contact with Jojoba wax
Prevents damage from free radicals – It's an antioxidant and fights free radicals.
Rich in natural minerals and vitamin E.
Non-toxic, non-comedogenic and non-allergenic – it won't clog pores or cause any allergic reactions or irritations.
Non-greasy, structurally and chemically very similar to the human sebum. Sebum is also largely comprised of wax mono esters, the primary constituent of jojoba oil – so jojoba wax mimics the skin's natural oil production.
The vitamin E helps to plump wrinkles and aid in healthy aging
With its innate antibacterial and skin mimicking properties, jojoba wax is great for problematic acne skin or oily skin – and will soothe dry or inflamed skin.
For the beard, jojoba wax helps to stimulate new hair growth and sooth and calm the skin. A few drops through the beard will help protect and nourish.
HOW TO USE: After cleansing, apply a few drops to face & neck daily or as needed in place of, or alongside your daily moisturiser.
BEARD APPLICATION: Apply a few drops to beard to for a healthy shine.
PRECAUTIONS: For external use only. Avoid contact with eyes. In case of contact with the eyes, rinse thoroughly with clean water. Suitable for anyone aged 12 months and over.
Pregnancy Safe
Honestly, in the first instance, please read the label of the item in question; we actually try to avoid laundry when we can, so we're not the best authority. However we've encountered many an oil stain in our years, and usually a warm wash will lift the oil. But we've found that a little baking soda, apple cider vinegar, a toothbrush and some elbow grease has helped extra stubborn oil stains.
FREE standard UK delivery on orders over £70
Standard Royal Mail delivery within UK Mainland: £4.99
Royal Mail Tracked 48 hours delivery within UK Mainland: £6.95
Next Working Day delivery with DPD for within UK Mainland: £9.95
Orders placed before 12 noon will be dispatched same day Mon - Fri for Tracked 48 and DPD orders.