ILLUMINATE FACIAL POLISH - TO BRIGHTEN & EVEN SKIN TONE (50ML)
£26
A fine face scrub with micro particles of rice to buff away dull skin leaving it noticeably smoother and more radiant with beautiful subtle scent of vanilla and white flower. An excellent exfoliator for sensitive skin.
INGREDIENTS
ILLUMINATE FACIAL POLISH - TO BRIGHTEN & EVEN SKIN TONE (50ML)
Aqua, OryzaSativa Bran Oil, Glycerin, OryzaSativa Powder, Polyglyceryl-6 Distearate, Butyrospermum Parkii Butter, Caprylic/Capric Triglyceride, Microcrystalline Cellulose, Cera Alba, Phenoxyethanol, Cetearyl, Glyceryl Stearate, Parfum, Potassium Palmitoyl, Hydrolyzed Wheat Protein, Tocopherol, Xantham Gum, Cellulose Gum, HelianthiusAnnuus Seed Oil, Benzoic Acid, Dehydroacetic Acid, Alcohol, Cellulose, AchilleaMillefolium Extract, Alchemilla Vulgaris Extract, MalvaSylvestris Extract, Melissa Officinalis Leaf Extract, MenthaPiperita Leaf Extract, Primula Veris Extract, Veronica Officinalis Extract, Citric Acid, Triethanolamine, Benzyl Benzoate, Coumarin
Contains Nuts and Essential Oils.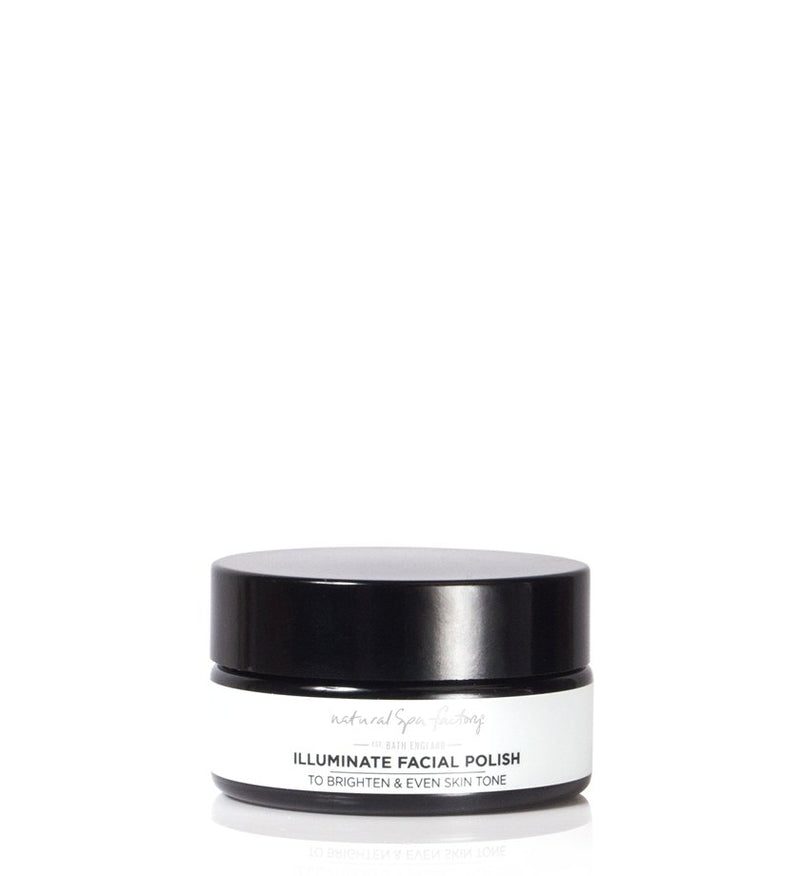 This face exfoliator is rich in Oryzanol, one of the best anti-oxidants for skin protection. It also contains rice bran, slows down and prevents the ageing process whilst improving skin's elasticity making it appear more youthful and plump. This gentle exfoliant, also lightens blemishes and evens out skin discoloration on the face.
Perfect for balancing the skin's complexion, this rich, creamy polish firms the skin and reduces wrinkles.
Skin feels smoother and more radiant with noticeably less pores, helping to lighten blemishes and appearance of age spots.
HOW TO USE: Apply facial polish to damp skin and massage in a circular motion. Rinse with warm water.
PRECAUTIONS: For external use only. Avoid contact with eyes. In case of contact with the eyes, rinse thoroughly with clean water. Keep out of reach of children.
FREE standard UK delivery on orders over £70
Standard Royal Mail delivery within UK Mainland: £4.99
Royal Mail Tracked 48 hours delivery within UK Mainland: £6.95
Next Working Day delivery with DPD for within UK Mainland: £9.95
Orders placed before 12 noon will be dispatched same day Mon - Fri for Tracked 48 and DPD orders.