Fig & Vanilla Hand Wash - Suitable For Every Body (5Ltr Refill) - Vegan Friendly
£108
The fresh and earthy tones of this delicious fruit accompanied by a soft sweetness of vanilla will leave your hands feeling squeaky clean and deeply moisturised. Our hand wash is free from any nasties. Free from Parabens, SLS, MI and MCI. Great for men and women, suitable for daily use and perfect for leaving your hands fresh and clean, locking in moisture.
INGREDIENTS
Fig & Vanilla Hand Wash - Suitable For Every Body (5Ltr Refill) - Vegan Friendly
Aqua (Water), Ammonium Laureth Sulfate, Cocamidopropyl Betaine, Decyl Glucoside, Coco-Glucoside, Sodium Chloride, Parfum (Perfume), Glycerin, Hydrolyzed Wheat Protein, Tocopherol (Vitamin E), Benzyl Alcohol, Potassium Sorbate, Phenoxyethanol, Linalool, Citric Acid, Hexyl Cinnamal, Citronellol.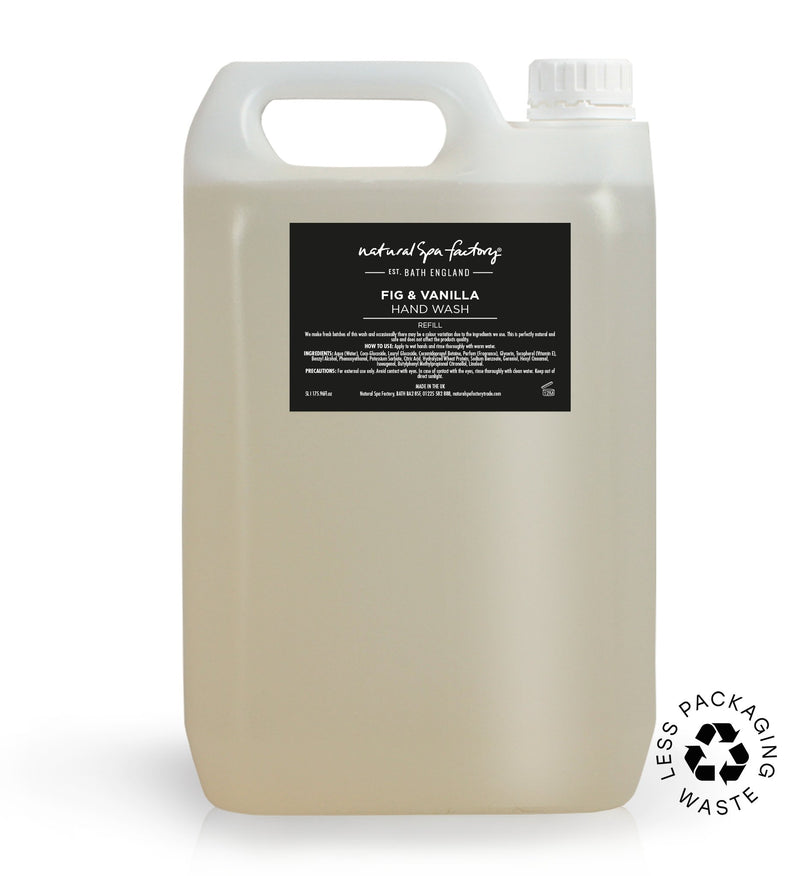 Our 5LTR bottle is the same as purchasing 20 smaller bottles and can help to reduce your use of single use plastics. This hand wash has the fresh and earthy tones of fig accompanied with the sweetness of vanilla to leave your hands smelling beautiful, whilst moisturising and nourishing.
This gentle gorgeous scent free from any nasties, is suitable for daily use and perfect for leaving your body fresh and clean.
Free from SLS, it contains Coco Glucoside (derived from renewable raw materials such as coconut oil) to help the lather process
Tocopherol (vitamin E) has powerful anti-oxidants to protect and help moisturise the skin whilst being non irritating and anti-inflammatory
Hydrolyzed wheat protein provide amino acids and high glutamine levels to the skin to both lock in and improve moisture levels
HOW TO USE: Apply to damp skin gently massage into a lather and rinse thoroughly with warm water until clear.
PRECAUTIONS: For external use only. Avoid contact with eyes. In case of contact with the eyes, rinse thoroughly with clean water. Keep out of reach of children. Not suitable for babies sorry - they need to be over 4.
FREE standard UK delivery on orders over £70
Standard Royal Mail delivery within UK Mainland: £4.99
Royal Mail Tracked 48 hours delivery within UK Mainland: £6.95
Next Working Day delivery with DPD for within UK Mainland: £9.95
Orders placed before 12 noon will be dispatched same day Mon - Fri for Tracked 48 and DPD orders.