Boosting Face Tonic (200ml)
$33.50
A gentle face tonic infused with aloe vera and rose water to hydrate and balance the skin's PH levels. This aloe vera toner is suitable for all skin types it is perfect for getting rid of the day's grime.
INGREDIENTS
Boosting Face Tonic (200ml)
Aqua (Water), Rose Damascena (Rose Water), Polysorbate 20, Hamamelis Virginiana (Witch Hazel), Aloe Barbadensis (Aloe Vera), Alcohol Denat. (Alcohol),Benzyl Alcohol, Phenoxyethanol, Potassium Sorbate, Tocopherol (Vitamin E), Sodium Benzoate, Camelia Sinensis (Green Tea Extract)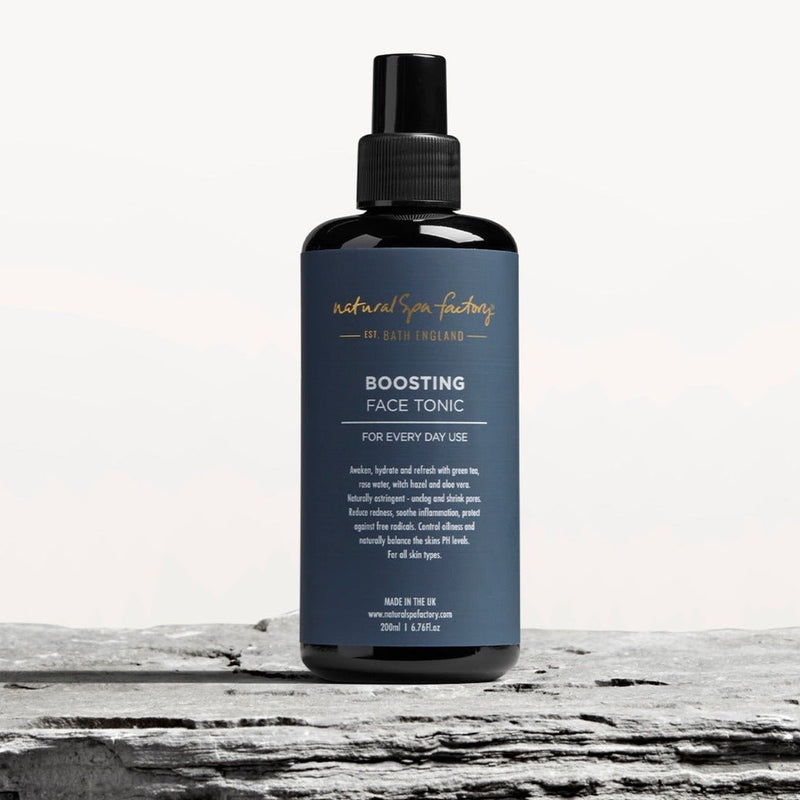 A vegan facial tonic is infused with aloe vera and rose water to gently hydrate and balance the skin's PH levels. Our natural tonic is suitable for all skin types and perfect for cleansing the stresses of the day away!
Rose water benefits include maintaining your skin's pH balance, fighting acne, dermatitis and eczema. It hydrates, revitalizes and moisturises the skin and helps to heal scars, cuts and wounds. The antioxidant properties of rose water aid to strengthen skin cells and regenerate skin tissue.
High concentrations of tannins in witch hazel make it an excellent stringent, to remove excess oil and shrink pores. Regular use may prevent further blemishes, especially black heads which result from dried sebum build-up in pores.
Aloe vera benefits include the plethora of antioxidants, beta carotene, vitamin C and E that can help improve the skin's natural firmness and hydration. It's antibacterial and anti-inflammatory properties help reduce pimples & acne scars. It moisturises without leaving a greasy feel, so it's perfect for anyone with an oily complexion. Aloe vera juice inspired the cooling and refreshing feel of the spritz pump.
The antioxidant rich green tea extract is calming and can reduce rosacea redness and promote healthy ageing, ridding the body of free-radical damage.
HOW TO USE: Apply a small squirt (5-10ml) to a cotton pad and gently swipe over the entire face and neck, taking care around the eye area.
PRECAUTIONS: For external use only. Avoid contact with eyes. In case of contact with the eyes, rinse thoroughly with clean water. Keep out of reach of children.
FREE standard UK delivery on orders over £70
Standard Royal Mail delivery within UK Mainland: £4.99
Royal Mail Tracked 48 hours delivery within UK Mainland: £6.95
Next Working Day delivery with DPD for within UK Mainland: £9.95
Orders placed before 12 noon will be dispatched same day Mon - Fri for Tracked 48 and DPD orders.